A common phrase passed between Builder and me is FHG.
Full, Hard and Good.
The days are sometimes pretty hard in our home, I imagine it is so in most all homes. Attitudes and words get twisted, chores get neglected, appliances break down. And always the days are just plain full.
But at the end of the day, as I think back over the day that seemed so long, yet has evaporated in an instant I know this. Life is Good. It is a good gift.
And this knowledge inspires me to pursue a continued change in my focus and activity, to look for the grace laden gifts, the evidence of God's amazing love for me in all the twisted tangle of full, hard and good each day.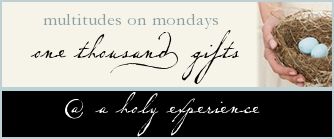 counting the gifts in 2013 #120-141
Testimony of the one who feels small, words flowing from one who says she has no speaking ability testifying of the joy seen in the eyes of new believers

stories of God's faithfulness that reveal my less than a mustard seed faith

the snow on the skylight, how it sparkles and looks like a kaleidoscope

new work, short frequent hours that allow JoyNess to continue nursing

the young man from youth group who asks if he can scrape my van windows at the end of the fellowship

that class of kids, such fantastic people

tadpole name suggestions that have me rolling in laughter

young men jumping up to help stack the chairs

a friend to share my deeper burdens with

the freedom that has come from sharing uglier parts of my life, story

a kind generous plumber friend