compassion means going directly to those people and places where suffering is most acute and building a home there," ...
this words have me thinking right now ~
I've no words to answer while I ponder the depth and layers of this quote
,
As I
read this book
after posting yesterday, I came across these words
"It can be easy to confuse a calling to a people or a place as more important than a calling to intern at a radio station for the summer or babysit the kids down the street. Is Christ not persent everywhere? Can he not work in our midst." ~ Emily Freeman
and a quieting came over me.
Each is called by a very personal Savior to walk out the life He has purposed. Katie is called to the very hard, quite big, far away work Jesus purposed for her. I am called to the work here, parenting, teaching, sharing the Gospel in my community, sponsoring children in far away places I may never visit. May I remember to be more than content in where I've been placed, in awe that I've been given these opportunities.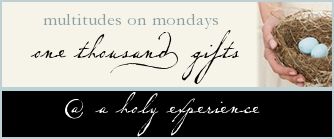 the graces that have been added line up on line day by day
through 1247
Peaches in the freezer, apple sauce & apple butter & pie filling in jars in the cabinets
Catching up with a friend
And reminding each other of truth
The splendor of fall color decorating our city
A new member of our international family
Lunch with daughters, to celebrate, to listen
Pointe shoes and delighted smiles
Fleece blankets to add to the beds during cool early mornings
Elder women in the church taking interest in the younger families
Enthusiastic young adult missionaries
Sweet older girls, showing my girls a better way
The scent of fresh picked celery
Church community coming along side as we raise these daughters
Christmas cards signed in green and red and blue
free Saturday afternoons
shades of gold shivering in the wind