Most of the time the letters we receive are exciting and encouraging. Hearing about the children we sponsor, about their dreams, their families help to build a connection between them and us.
We were notified in June that one of our sponsored children, Bryan Marcello, had left the Compassion program. This week we recieved a "final letter", not from Bryan, but from the director of his child development center.
"
Dear sponsors, Benjamin and Michelle:
We greet you in he name of Jesus. We wish you blessing and good health. We inform you that the boy Bryan Marcello didn't attend to the activities of the student center anymore and due to his absences we proceeded to his departure. The boy is healthy, he studies and is stable economically. The benefits he received through your sponsorship were medical checkups, gifts, correspondence, camps, spiritual retreats, excursions, school supplies, snacks, shoes beirthday celebrations, Family's Day, Child's Day.
As personnel of the student center we thank you for all your support; and we encourage to continue giving your support and love to other children.
Sincerely,
Director.
This letter left me sad, as I've been concerned and praying since that June phone call. Guatemala City has some rough areas, places where young men can be lead astray. So we continue to pray for Bryan, knowing that he may have left the Compassion program, but God knows right where he is.
and that is gift #1230, giving thanks even when it is hard because God always knows where to find us when we think we've actually ran from Him or hid from Him.
and still always counting #1216-1230
Sleepy girls on the sofas
Black princess cat close by
The quiet morning hours
Children laughing
Cool evening, dinner on the patio
God is so Good coming from a girl's guitar
Sweet love words
Morning hugs
God interrupts my plans, giving a day for

what's really important

in my daughters' education, and in mine.
Fellowship in the foyer
Encouragement along the way
Duck eggs
The opportunity to love and be loved
"momma, can I sleep with you tonight?"

bad dreams are still chased away by snuggles
God always knows where to find us when we think we've actually ran from Him or hid from Him

.
giving thanks with the community of thanks givers,
Ann
and
Laura
and
Michelle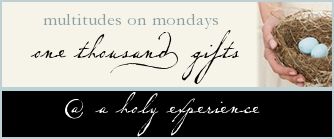 Join us for Gratituesday at
Heavenly Homemakers
!