These days I often find myself thinking, pondering things that Builder says in passing. Having him home for several months, we get to hear great things from him. He was recently sharing words of encouragement to our daughters that ended with something like this...
and then there are those who spend most of their lives just healing from injustices of this sinful word.
Those words stuck with me for quite awhile. Those words really
fit
. Ick. And then, as I slowly read through
Pearl Girls encountering grit, experiencing grace,
these words...
...through the grace of God, I do what I do...to live life intentionally...to make the next right choice regardless of circumstances or choices in the past. I do what I do because my mother did not have that encouragement and
her song went unsung. (my paraphrase)
words of Kendra Smiley
It has been a long road since childhood abuses were inflicted and neglect left me alone in my pain. A road that has been filled with so much debris from the past that made moving forward a slower than slow process.
But
these new words, spoken in love,
have ushered in something different. The road looks smoother and less littered with ugly debris. My vision is more clear to see debris and call it what it is, instead of bumping into it blindly. What's more, old scars don't feel so tender, instead they are more soft and pliable. There's a desire and a strength to now lift my
shield higher, over others, use this sword of mine, for others.
It is my desire that while I am broken by the sin of others and by the sin within, that I can show my daughters how to laugh at the days to come becuase of the love that has won me, has renewed me. It is my newly found desire to share my story, the story of hope given to this very cracked clay vessel. And show my daughters how to do so as well.
I'm taking the next step, intentionally making a choice, a right choice, a good choice, with gratitude and joy. Ready to give an account for the hope which is in me!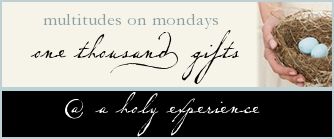 counting with the gratitude community to #897
Bike rides in the spring
Discovering spring flowers during a walk with a dear friend, life springing from the ground as life springs from our conversation
A day to rest and allow the pain to subside
Inhaler to keep asthma at bay, allergy meds to help me just get through the day, and night
Understanding family
Desk partially cleared
An 8 oclock appointment tomorrow morning, a next step
Mae's understanding even with tears, when we say not yet,
Sweet books with the youngest
While the older girls share an exciting evening with Daddy
Chocolate with almonds
More confirmation of words that I think, that God is answering my prayers for wisdom
Friendly family dogs