This past week so much time was spent out of our home, or occupied by online training that kept me from some of the normal rhythm of
home.
Home, that word brings so much joy and peace to my heart. It wasn't always so, but God has healed so much, forgiven much, changed much in my life. He has given me a new heart, that seems to beat more strongly day by day.
It is amazing to think, nearly 9 years ago I was in physical heart failure...and even more so, spiritual heart failure. While the surgeon replaced a valve and stitched me back together, the LORD's scalpel went even deeper.
Looking back at my life used to bring shame, fear, pain. Now most days a reminder of the days behind stir a wonder and joy within me.
There is therefore now NO condemnation for those who are in Christ Jesus. The old has passed away, the new has come.
Glory Hallelujah!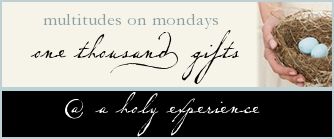 giving thanks with joy #926-946
This community in which we live, filled with others on a similar journey as us, and always full of encouragement
High school doesn't look so daunting this morning
Cheerful girl up an hour earlier than usual, practicing piano and reading
Laughter as cousins fellowship, olders hide eggs, youngers find eggs
Monopoly in the dining room
Stories with a grand nephew
Garden planning
Sunshine
Rich joyful sounds from the fingers of 3 different ladies, at various times during the day, on the piano
Beautiful red tulips on the corner
Sunshine after rain
Blue clear skies, no pollen in the air
Teaching opportunities
Good books
Sweet daughters sewing buttons
Lunch with precious daughter
Snuggles with darling daughter
The opportunity to share with others a burden of my heart ~ child trafficking