Reading Just a Minute these past 2 months has inspired me to look back, to pray for the clouds in my memories to be blown away and to remember minutes, moments of life giving. A little trickle has made it's way out.
Like stones across a river, were the moments sown into me during my 3 of my high school years by a few adults shepherding a group of young people.

Doug and Patti Irvin were the youth pastors during those years, investing their time and Christlike affection with a bunch of kids.
Maybe Doug and Patti had some ideas as to who "that" girl really was; maybe they only saw the contradictions as the young lady grasped at truth, and at the same time played with alcohol, drugs and boys.

Whatever they thought, they showed love, they shared truth, week after week.
The time they took to speak truth and teach Scripture made those 3 years a place of quieter waters sandwiched in a life of chaos, abuse, acting out and outright rebellion.

The seeds fell deep, waiting for the time when God would peel back hard sin sick layer after layer to set a scaled, walled up heart free.
Life has been a roaring river filled with much debris, it has been gentle quiet waters where my heart has been softened.

I am learning to look deep, to see the life, the graces along the journey, and to see with wide open eyes the wonder and glory all around, here, today.
Father, open our eyes, to the wonder and glory all around. The grace you poured out in the past, the grace you have for today, the grace we can believe will be given tomorrow.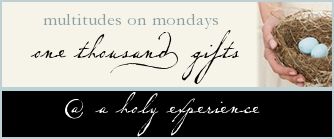 counting the gifts to #817
Sunday morning date over books, to learn together
Pink stripe clouds at sunset
Snow in the morning
Hugs with the precious new 11 year old today
My sister calls the birthday girl, and gives the gift of time as she lingers on the phone asking questions and listening
Friendship
Bear hugs
The opportunity and inspiration to write
Hope
The ability to remember