Little did I know when I made my audio book list for this year, that all around me I would find the need for truth to be gleaned from these books.

That is how it has been though, and still is, in my walk with Christ.

Gently, steadily He leads in all areas of my life, weaving them together in a way the keeps the waves of my life flowing in a same direction.
A Place of Healing, Wrestling with the Mysteries of Suffering, Pain and God's Sovereignty by Joni Eareckson Tada, Joni begins this book with the sharing about her own "newest" struggle, extreme persistent physical pain even in a paralyzed body.

In the chapter God and Healing:

What's the Real Question?
And each chapter has given me words to think on, words to share and words to keep me steady as yet another crashing, violent wave hits the shoreline of our lives.
Why does our LORD walk so closely to this scattered woman who forgets to speak life, meditate on Him and in general stumbles through this gift of life? Becuase HE IS, HE IS JEHOVAH, GOD of all creation, CREATOR of me. And, I have learned and am learning to really know, HE LOVES me.
Such glorious grace and unending mercy
.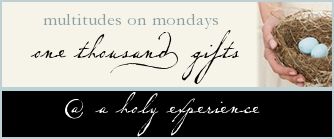 giving thanks in all circumstances all the way to #884
The agreement to make pizza, instead of getting take out, saving us $25 this weekend
Morning routine tweeking, blesses the children
Daughter in her new bedroom, can see the mountain and the birds
Signs of spring all over the yard, and it's only March
The tax bill…prompts us to keep counting the gifts
Five eye exams and no new glasses needed this year
The words of joni Erickson tada…yes I want the warrior savior too
Sleep given, even in the midst of the anxiety
Courage to believe the truth
Missing student found safe
An hour and a half home alone
Northern flickers and black capped chickadees in the pinion tree
Glorious cousin playtime until they are all tired out
Small family business ideas
Time to sew and another project hemmed.
Another little piece of time alone
A sermon on "the gospel"

all things are created by Him, and for Him.
Laughter with sweet Petal Rose
Mae's excitement over the signs of spring in the gardens
The relief from an answered prayer, prayers
Another opportunity to serve