Reading Jeremiah 31 this week, my heart found these words...
"
9
"
With weeping they will come,
And by supplication I will lead them;
I will make them walk by
streams of waters,
On a straight path in which they will
not stumble;
For I am a
father to Israel,
And Ephraim is
My firstborn."
Oh the joy to know that right there in the prophets, a piece of my story is found. There has been weeping, and the LORD has led. There have been those streams of waters, those quiet waters I name here on this blog. And with joy I am strengthen by the words "on a straight path in which they will not stumble." How encouraging to know that by His leading and grace one can walk that straight path.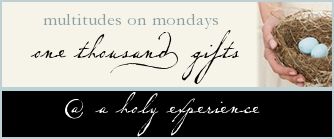 counting to #846
The taste of lemon with a touch of sugar, truly a heavenly taste
Beloved and I received confirming messages over the course of a week.

Discovering this on the next Monday.
Chalked smiley faces on the driveway
Funny mad libs
New mercies each day
The sweet smile of a teen ambassador
Encouragement from Lura
Answered prayer
Thanks from someone I've been praying for, not for my glory, but God is loving through me.

Sweet joy, magnificent grace
Cave bed made, to sleep in hiding from the bedtime story
Productive day sewing
Beloved is able to take the time he needs to heal
A new recipe, makes eating onions and peppers so tastey
Beautiful march day, children playing outside with great delight
Guarding the time
Chasing the sliver moon
Watching as it slides behind the mountain
Wanting so to catch in through the camera lense
And deciding to just tuck in my head
Another young woman is brought to our dinner table