Joy is God
and God is joy.
Joy doesn't negate all other emotions;
joy transcends all other emotions.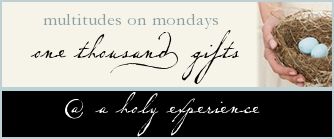 to #798
Healthy children
Gracious Kyoshi
Cloud striped moon in the early morning
Blue light through the pinion branches
A time call to a friend
And a verse from friend for me to meditate on
Artisan bread
My medical alert bracelet has been returned!
Warm tea
Motrin
Gift found behind a door ~ a warm hat for our windy walk
Chocolate kisses and sweet daughters
Ballet Magnificat ~ Roaring Lambs, preserving salt in the world of dance, offering it back to the Creator of Dance.