whenever man is made the centre of things, he becomes the storm-centre of trouble. The moment you think of serving people, you begin to have a notion that other people owe you something for your pains...You will begin to bargain for reward, to angle for applause.
I read these words and hear a hearty agreement rise up in me. A recognition of
the doing for appreciation
as the Author of joy has shed more light on this dark heart of mine.
The words of Isaiah are printed on the page in front of me and I hear Him
And if you give yourself to the hungry And satisfy the desire of the afflicted, Then your light will rise in darkness And your gloom will become like midday. And the LORD will continually guide you, And satisfy your desire in scorched places, And give strength to your bones; And you will be like a watered garden, And like a spring of water whose waters do not fail. Isaiah 58:10, 11
do it for Him, through Him. He guides, satisfies, gives the strength and will make me a spring of living water that does not fail to pour out LIFE.
Each day is filled with the many graces, gifts of a loving FATHER. And each day is full of the grace to offer all gifts back to Him through through the pen and voice and through the serving of others.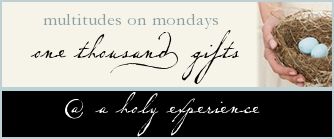 These past few weeks I have been sharing some of that which I have read in Ann's book,
One Thousand Gifts
by
Ann Voskamp
. I encourage you to check it out, see if the words touch your heart as they have mine.
still counting #700-715
pink sky through the tree branches
spelling board is hung
doves nest making
reorganized book shelves
the Father does not leave us in our sin
and He reminds me, I am one of His favorites
cold air on my face
Learning to open my hand to the gift, even in the hard moments.