"God is interested in the great reversal. Not clean hands and a dirty heart, but a clean heart with dirty hands. It reminds me of this verse: 'Religion that God our Father accepts as pure and faultless is this: to look after orphans and widows in their distress (dirty hands) and to keep oneself from being polluted by the world (clean heart).' James 1:27"
Thin Places by Mary E DeMuth
As this past week we read posts from the blessed heartbroken, those who traveled to the
Phillipines to visit the Compassion projects and met the people,
so much bubbled in me. So much want to GO myself, with Builder and children. Travel to "that" place, meet those children, see their world.
I know this verse above, I believe it and seek to
do
it. In all this affluence, all this abundance doing it here seems so much less. Then I looked into the eyes of the not so little ones entrusted to me, the little ones who visit for a few hours a week and it comes to me. There are widows abandoned by their men, children orphaned by their fathers, the heartbroken, and the simply sweet young hearts of our own to look after, right here, right now.
The real ache, the real trouble with this verse, keeping oneself from being polluted by the world. To be sure to use this abundance and affluence to HIS glory, for the care of whoever He brings our way, or puts on our hearts, and to teach the precious "hope for the future" that dwells right here with us. Wisely, as stewards.
counting: a few of the gifts from #571-583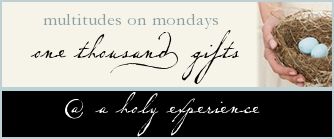 Bubbly laughter of children
Cookie Dough birthday gift
Flowers outside my kitchen window
Baby birds in the birdhouse
God's word, ever true
Books that make me think
Guidance in decision making
Safety
Hurts revealed
Sleeping children
Sunshine
Hearing the Spirit speak, and hearing Him say, "Yes, it is ME" through the message on Sunday morning
Growth in the garden, hope for growth in my heart
Discouragement, an opportunity to purpose to be steadfast in hope
Scriptures with the children