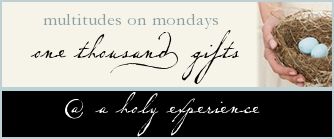 This past week has been a very emotional wordy one. Deep scars in my heart have been rubbed in such a way that I began to think they had ripped right back open. Rubbed so raw that I forgot to keep counting gifts and instead, counted the throbbings of pain. So here is the end week efforts to remember that the answers, the healing, begin with gratitude.
#441-458 of 1000 gifts
Understanding
Time to play at the park
Friends who are praying for me during this difficult time of sifting through my thoughts.
A husband who keeps listening
Children who long to be HOME
Sweet sleep
Kitten affectionate purrs
A husband who tells me not to apologize.
The husband who listens and listens and offers a task to bring healing.
The same husband who tells me nothing will be wasted.
Extra days to be home, he will be here for the ballet recital.
And SURPRISE, the newly scheduled puppet show.
Builder will be home for one of each of the children's special events!