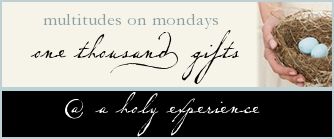 gifts appear everywhere, too often to write down each one, too numerous to remember all at the end of the day...
#s 466-482
This day
Afternoon quiet time
Miss Sunshine made it for our St Patrick Day lunch of Irish Stew, Irish Soda Bread and Apple Cobbler.
Healthy chicks
Hot Air Balloon over the house on a beautiful quiet morning
Saturday morning walk with the dog
Easy Nachos for lunch, delight 3 girls
Kitchen Aid mixer that also grates cheese 
Field trip opportunity arises during an afternoon walk
Green haze atop a neighbor's tree
Robins all over the place!
Gentle brisk walks with a pup that is learning.
Planning and dreams
Sensing we may be "home" at the neighborhood church
Warm welcomes
Daughters who like each other
Mercy new everyday