So I come from a long line of bitter women. And from a childhood of horrid abuse and neglect. And the roots of bitterness sunk deep within my own heart as a young woman, choking the life right out of my life. I am so thankful, daily, moment by moment, of the journey of forgiveness and choosing of JOY that my HEAVENLY FATHER and precious husband are walking me through!
Over the last week I alluded to the fact that
some scars had been rubbed raw
, and were sore once again.
But as I came out of that time of pain remembered, something new had sprouted from my heart. Fresh roots of peace. What happened is in the past. What happened is forgiven and healed. BUT, it is still a part of me. Woven into my BEing like a part of the pattern in the fabric of a beautiful dress. So the garment of life I wear is woven of all of my life. And all of it,
together
, is becoming something beautiful.
Thank you for sharing your story
Maribeth
. And
ANN, thank you for sharing yours daily
and through your book. You are part of the landmarks and standing stones the LORD is walking me through on this journey of laying down bitterness and embracing joy, grace, mercy, gratitude.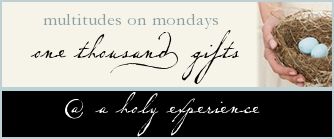 linking up with the gratitude community...
a few pieces of gratitude from my growing list #459-468
Hearing that my husband has placed his children's hearts over his career.
Seeing that his employer moved the meeting.
Witnessing that God honors these priorities.
Hearing the harmonica play Silent Night (in March)
Hearing the harmonica and piano play
When the Saints
somewhat together.
Reading delightful stories from Mae's pen.
Wearing the beautiful beaded bracelet of 3 strands, made in an evening by sisters.