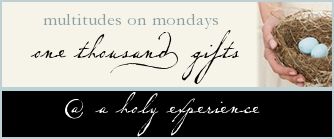 continuing to count the multitude of gifts the Father gives so freely.
366. He has returned to work in the north, arriving safely.
367. Tax files submitted, whew. So thankful for the company that will now complete the files, 2 countries, 2 states, too much for me!
368. A very warm home.
369. Safety while driving on the icy roads, and not only that, but peace too!
370. Repentant hearts, evidence of His Spirit at work
371.
A good book that is challenging my thoughts on poverty, inspiring me to tell my own story and fanning other desires in my heart
372. Working together, this month's "deep clean", cheerfully, with songs and smiles.
373. Mountain Chickadees visiting the feeders,
flitting about the tree
. Causes me to look UP and thank the Provider.