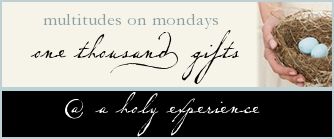 #318-365
318. Tea time with my girls
319. Expressive eyes telling me the story
320. One more hug
321. Another one's one more hug
322. Electric blue, Marme, not bright blue
323. Freezer meals prepared
324. Another life to celebrate
325. Brisk walk with the dog.
326. The joy of sunshine & warmth, in January
327.
Birds have found the feeders!
328. The sound of children playing in the sunshine, instead of reading history.
329. There is more time for history.
330. "I get it!" After watching the math lesson, again.
331. Colossians 1:1-3 is in my head
332. Household cleaners delivered to my door.
333. Herb garden in our living and learning room
334. Sisters reading together
335. Bookshelves, overflowing
336. Invitation for a short park visit with friends
337.
Girls noticing notes to myself, and taking the challenge themselves
338. One by one, they ask me to pray
339. For Daddy to come home safe
340. For grandfathers to know Jesus
341. For a friend's family's house to sale, so they can move closer that which they need
342. He is home safe
343. Birthday celebrations with dearest friends
344. Puppy and kitten eating from the same bowl.
345. Remembering grace
346. School closure…the home school classes are cancelled too…giving us a puttering day at home. Such a gift.
347. Builder is home, and helping me with school. Chasing away the anxiety and "doneness" of this Marme.
348. Slower morning, time for a back rub.
349. Houseful of dog, puppy, kittens, cats, all playing and rolling around our feet.
350. Children getting an bit more snuggly sleep on this extremely cold morning.
351. Concern for the homeless on this extremely cold morning, and remembering, there is something I can do. Pray.
352. Very cold fruit & minerals smoothie, made with extra love because he made it
353. Hot showers on these very cold mornings
354. Builder's gentle critique of our schooling routine. Kind words to spur me on to better use of our time.
355. Compassion International.
356. Sponsored kids, more kids to love and pray for.
357. Art & craft projects all over the place. Messy, but so beautiful.
358. Builder holding my hand as I let go of some of my to do list
359. A very productive, but less stressful week
360. Lavender soap
361. Dinner by Mae, from start to finish, with Builder and me doing the dishes after
362. Knitting needles & wool, while Builder reads North or Be Eaten
363. Delightful Date Night with my Beloved
364. Good books
365. Saturday, a day for rest and joyful pursuits