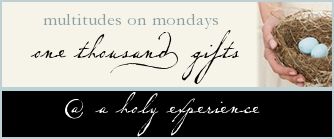 Over all of these, filling in all the empty spaces, covering the harsh words, smoothing the hard edges there is GRACE. And through this GRACE the ordinary moments begin to shine.
295. Sunday afternoon nap
296. Truth spoken from the pulpit
297. Afternoon quiet time
298. Girl bubbling over and over after dance class
299. Sweet voice sounding so much older, as she says, "hello Daddy"
300. Precious prayer time at bedtime, hearing sisters thank the FATHER for each other.
301. Health insurance coverage.
302. Another girl, not bubbling, but gushing, after her gym class.
303. Knowing HE is speaking, HE is leading.
304. Builder's affectionate words
305. A sister ballet class in the Sunshine Room.
306. Grace
307. Mercy
308. Life